Products
PRODUCT OVERVIEW
The original Comfy Cone is a soft, cone-shaped e-collar that helps your pets heal and recover from surgeries, procedures, allergy flare-ups and hot spots in comfort.
A great alternative to rigid plastic cones, it prevents your dog or cat from reaching the wounded, sensitive or irritated area while still allowing them to walk, eat, sleep and play comfortably.
And best of all, it's vet tested and approved!
The unique design of the Comfy Cone includes:
Foam-backed, padded, tight-gauge nylon that even prevents cats from getting their claws into the material
Opaque inner surface to reduce shadows and distorted views, like blinders for a horse, so pets stay calm
Reversible, inside out and from upright to around shoulders and chest
Three sizing strips help achieve the ideal cone shape and fit – simply use the Sizing Chart and Measuring Guide to determine the right size for your pet
Hook & loop for tight closures, making it easy to get on and off animals quickly
Unique design with removable plastic stays that allow you to adjust the rigidity of the cone to fit your pet's specific needs
Water-resistant and repellent materials that are easy to wipe clean
Reflective edge for safety and elastic loops at the neck to thread your pet's collar through for a secure fit at the new
PRODUCT OVERVIEW
Help your dog get a doggone Grip!
Are you searching for the solution to your dog slipping on floors? Dr. Buzby's ToeGrips are natural rubber rings that provide instant traction on dog toenails. Designed for senior and special needs dogs, ToeGrips stop dog sliding on floors and stairs, such as hardwood, laminate and tile.
ToeGrips offer a natural, drug-free solution for the age-old problem of dog slipping on hard-surface floors. These assistive devices are a revolutionary new tool in the multimodal approach to pain and mobility management for senior and special needs dogs.
Designed for senior, arthritic, and special needs dogs, Dr. Buzby's ToeGrips are the only product on the market that use dogs' natural bio-mechanics—enabling traction through their toenails.
ToeGrips provide instant traction and confidence for dogs who struggle on hard-surface floors and stairs—such as hardwood, tile, linoleum, marble, etc.
A dog's natural mechanism to gain traction is to flex the paws and dig in the nails, which act like cleats on earthen terrain. But on hard floors, hard nails can't get any grip.
Young, fit, healthy dogs can typically compensate for their lack of traction on hard surfaces. Senior, arthritic, and special needs dogs often cannot. A smarter traction solution for dogs would use this principle—traction through the toenails—in its design.
ToeGrips are that smarter, nail-based traction mechanism that work with your dog's biomechanics. ToeGrips fit onto your dog's nails and the non slip material grips the floor in a way that your dog's hard nails cannot.
With this unique patent-pending approach, here's how ToeGrips work to help senior dogs, arthritic dogs, and other dogs who struggle on slippery surfaces:
– Improved mobility and stability
– Increased confidence
– Reduced risk of slip-and-fall injuries
– Plus, you no longer have to consider covering your whole house in mats and runners. Throw rugs are gone with ToeGrips!
What other advantages do ToeGrips have over socks or boots?
– ToeGrips don't cover the dog's whole paw. A dog's toes contain numerous proprioceptive receptors, which feed information to the brain about the body's spatial position. When the paws are covered by boots or socks, this information is altered.
– Dogs sweat through their paws. ToeGrips leave the paws uncovered to breathe.
– ToeGrips are designed for semi-continuous indoor/outdoor use. Unlike boots, they do not need to be removed daily.
– Because they do not contact sensitive tissue (like the paw pads or skin), most dogs tolerate ToeGrips very well and do not seem to even notice them.
Dr Buzby's Logo and details on this page copyright by Dr Buzby
PRODUCT OVERVIEW
Intervertebral Disk Disease, or IVDD, is a disease affecting the joints in the spine, often seen in small breeds of dog such as Dachshunds, Pekingese, Beagles, Corgi, Shih Tzu, Maltese, and other small breeds that tend to have longer bodies with short legs. IVDD is especially prevalent in Dachshunds; an estimated 1 in 5 dogs will suffer from this disease. IVDD is a very serious condition and results in intense pain and can even lead to paralysis.
The main problems IVDD causes are back pain, rear limb paralysis, and inability to walk or feel the back legs. This often includes incontinence for the dog and a less full quality of life.
How Lil Back Bracer can help
The Lil Back Bracer is the only orthopedic support brace for dogs. Patented design to help keep your dog's back supported when dealing with Intervertebral Disk Disease (IVDD) and other dog back pain.
Primary features of the Lil Back Bracer dog brace:
– Comfortable, ergonomic construction to alleviate pressure on spine
– Dog brace designed to stabilize the back from above & below
– Recommended for both treatment and prevention
– Snug, adjustable fit provides gentle, constant pressure for calming effect on nervous system
– Incorporated D-ring to attach a leash
– Easy to take on and off
– Medical grade, moisture-wicking, Breathe-O-Prene® fabric
– No need to remove dog brace for dogs to "do their business"
How to Measure the size
Comes in 3 sizes (Small / Medium / Large)
PRODUCT OVERVIEW
Hip Bound Brace
The Ortho Dog Hip Hound brace is designed for dogs who suffer from arthritis, mild to moderate hip dysplasia, decreased endurance during activity, hip pain, low back pain or weakness and back leg limping.
The brace is also appropriate for puppies and young dogs who suffer from low back pain and early hip dysplasia symptoms. The brace also supports the low back and hip area for dogs recovering from surgery or injury.
The Hip Hound is useful for older dogs who have difficulty getting around easily. The support and stability provided by the brace helps decrease pain and inflammation while being active.
Indication to use:
– Mild to moderate hip dysplasia
– Arthritis
– Decreased endurance during activity
– Hip pain
– Low back pain/weakness
– Back leg limping or fatigue
– Post operative support
– The Hip Hound can be worn during the day and taken off at night
Hock Holder
The Hock Holder was requested by one of our favorite veterinarians. He asked us to design a soft brace to support the ankle of one of his canine patients. Our brace has helped his patient a lot and we appreciate his request.
The hock joint is on the dog's back leg below the knee and corresponds to the ankle on a human. We designed this brace to fit the natural angle of the hock to prevent it from hyper extending. The neoprene wrap also supports the joint medially and laterally allowing your canine friend to move easily and without strain on the joint.
Indication to use:
– Weak or painful ankle
– Limping on hind leg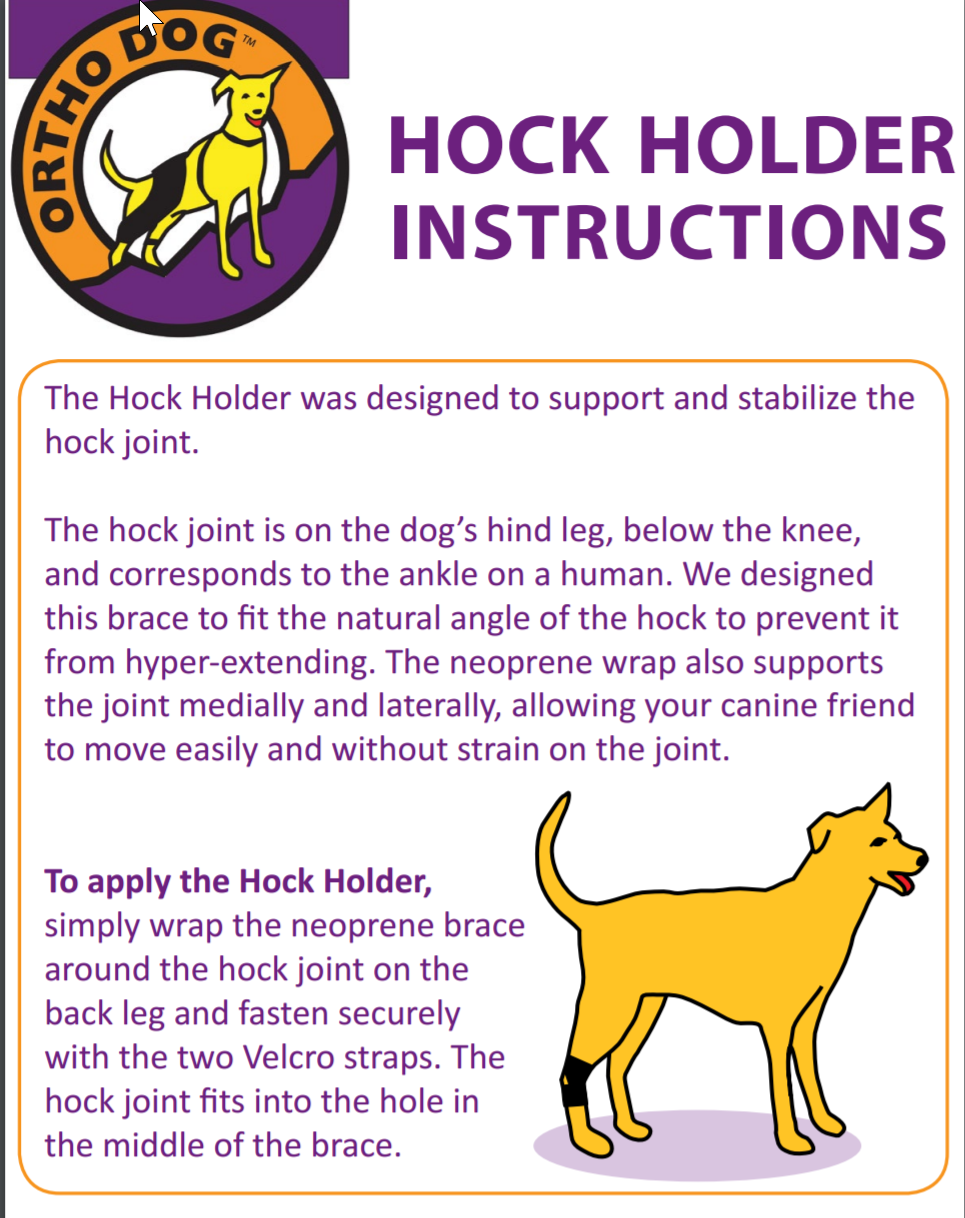 PRODUCT OVERVIEW
OrthoVet splints are designed to support a wide variety of lower limb injuries such as fractures, arthritis, carpus support, tendon and ligament, Achilles tendon injuries, and much more!
Product Features
Flexible light weight design
Adjustable straps
Soft Foam Lining
Premium strap pads
Waterproof
Flexi Rear Limb
OrthoVet is proud to present the new Rear Flexi Splint for dogs. Unlike any other pet orthotic on the market you get flexibility and comfort with this new design. Does your pet have a mild sprain or strain to the rear limb or just need extra support and protection? The Flexi Splint is a great option! The rear flexi splint is available in sizes: Small, Medium and Large.
Flexi Front Limb
OrthoVet Flexi Splints are designed to support mild sprains and strains to the carpal or wrist joint; they are ideal for front limb carpal support.
Carpal Splint
The OrthoVet "Carpal Splint" is a light weight brace designed to support the carpal joint. Ideal for tendon and ligament damage and stabilization after surgical procedures. Note: The carpal splint will support the wrist or carpus only and does not extend under the foot or paw of the animal. If full lower limb bracing is needed, please see our Standard Front Limb Splint.
PRODUCT OVERVIEW
a leading edge solution to controlling fleas and ticks for your pet!
Pawtect Pendants are an innovative, natural solution designed to effectively control fleas, ticks and mosquito's while supporting your pet attaining optimum health and vitality using provenbio-energetic technology.
The technology behind Pawtect combines homeopathic principles and advanced computer software technology to stimulate your pet's natural body processes and return them to a harmonious state.
BENEFITS:
Effectively controls fleas, ticks and mosquito's
Supports a healthy skin and coat
Protects your pet for up to 24months
Assists with natural health balance
Minimises/eliminates skin irritations and allergies
Improves and strengthens your pet's immune system
Encourages a naturally calm and content demeanour
PRODUCT OVERVIEW
All of ThunderWorks' solutions are designed to be simple, effective, and safe for many of the most common problems faced by families with dogs.
ThunderShirt's patented design applies a gentle, constant pressure on a dog's torso. Using pressure to relieve anxiety has been a common practice for years. Prior to ThunderShirt, there just wasn't an easy and safe way to do so for our dogs . It is believed by many experts that this type of pressure works in a similar manner to swaddling an infant or people with autism using pressure to reduce persistent anxiety.
Colours that are available:
PRODUCT OVERVIEW
Recommended by veterinary surgeons as the most effective walking aid on the market, Walkabout Harnesses are commonly used on animals with arthritis, hip displasia, spinal trauma and general fatigue. Plus they help prevent back injury to pet owners from lifting pets improperly.
Our front, back and combo harnesses will keep your pet happy and mobile despite his or her injuries or age-related problems. The Walkabout Harness is designed to fit both male and female pets. Please discuss the use of this product with your veterinarian. If you are unsure of how to use the harness properly, their assistance is strongly recommended for the safety and comfort of your pet. Be sure your pet can urinate with ease, if not, please verify your measurements and consult your veterinarian.
Front Harness
A smooth, semi-circular neckline allows your pet to breathe comfortably, while simultaneously supporting his/her front end.
Long handles help you stand straight up while helping your pet walk comfortably and supported. Can be left on all day, or for many days helping your dog move whenever he/she asks.
Handle lengths come in set standards
xs/sm/med-small harnesses are 21″ length support handles
medium harnesses are 16″ length support handles
m/l , large and xlarge 12″
Back Harness
The Original Patented Walkabout Rear Harness has been recommended by veterinary surgeons and specialists for over 29 years.
The design and construction of the Walkabout harness provides the balance and support necessary for your pet to lead a happier, healthier, cleaner life. Use of the Walkabout can also help minimize the back strain that often results from lifting and carrying heavy animals. Pets can wear the Walkabout all day long, even for many days in a row, as long as your pet can handle that length of time. Be sure to always check the skin for dryness and never leave on a wet dog.
Harnesses have set handle lengths
xs, small, med/small 25″ handle length
Walkabout Belly
These hand-held Neoprene slings are lined with comfy fleece to support your pet with ease. The design and construction of the Walkabelly harness provides the balance and support necessary for your pet to lead a more active life when they otherwise cannot. Use of the Walkabelly can also help minimize the back strain that often results from lifting and carrying heavy animals. The Walkabelly can be left on for extended periods of the day. Please remove when you are gone.
A front strap with adjustable buckle helps hold the Walkbelly in position. This strap prevents sliding back on your dog. The front strap also secures your pet when going down stairs.
PRODUCT OVERVIEW
disposable, breathable, soft, water resistant, easy on and easy off
PawFlex™ is hands down the quickest and easiest bandage system to use. PawFlex™ literally takes seconds to secure and release, making it the most hassle free bandage system.
Changing bandages will never again be a complicated, time consuming and stressful event for you or your pet.
PawFlex™ MediMitt Bandage Cover
For outdoor protection, PawFlex™ has designed a disposable water proof Cover/Protector that slips right over PawFlex™ MediMitt and utilizes the same fastener to keep the MediMitt clean and dry during outside use.
PawFlex™ MediMitt Bandage
This bandage is for your dogs paws.
It has no designated front or back so you can direct the wound pad portion directly over the wound no matter where it is located on the paw.
The fastener is a non-slip strap with Velcro®.
PawFlex™ Bandage Cover/Protector
We suggest using the bandage cover with both PawFlex™ Basic and Joint Bandages if your dog needs extra protection from biting or gnawing at his wound and/or bandage.
The tubular bandage cover is easy to slip on and off and is totally hassle free. It has a built- in non slip grip and is water resistant. The cover is tubular which means there are no ends to unravel or open. In other words it's virtually impossible for your pet to get it off…unless of course he's Houdini.
Many dogs won't require the bandage cover/protector but every dog owner knows their own dog and can make that judgment call on an individual basis. PawFlex™ Tubular Bandage Cover/Protector comes as a standard addition in each box of Basic and Joint Bandages.
It is also sold separately.
PawFlex™ Universal Bandage
PawFlex™ super stretch material flexes in all joint degrees and angles and moves gently and smoothly with your active dog. PawFlex™ is gentle and soft enough for the tiniest breed and strong and tough enough for the largest of breeds.
Again, no worry about slippage as each PawFlex™ design has a built- in non slip grip created specifically for fur. Special instructions on sizing PawFlex™ Universal Bandage: Follow size chart recommendation for hock (hind leg) joint; go down 1 size for front leg joints and large wounds on front legs or below the hock (hind leg joint).